Casacol's Insiders Guide to Medellin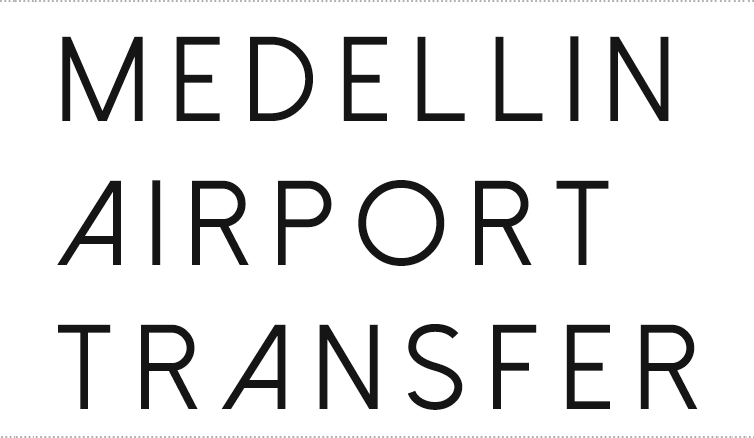 Looking for dependable transport to/from JMC airport in Medellin? Visit www.medellin-airport-transfer.com
Whether this is your first or tenth visit to Medellin we want to make sure our guests experience Medellin the way it suits them best from physical activities to shopping, dining, nightlife and more. So we crafted this guide for two types of travelers:
1 The Mainstream Traveler that wants to experience the highlights of Medellin
2 The Adventurer who wants to experience Medellin much more like a local than a foreigner does
We hope you enjoy our recommendations and we are always welcome to feedback on how to improve the guide for future guests. In fact it was guest feedback that brought some of these recommendations to our attention in the first place!
Mainstream in Style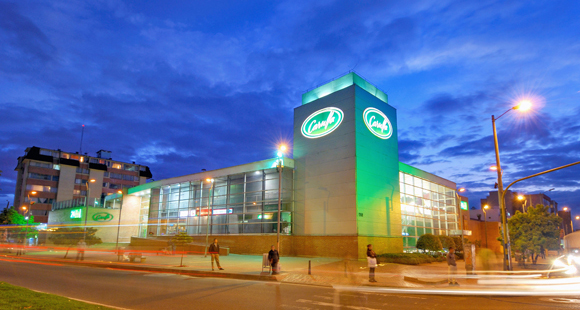 FOOD/GROCERY

Carulla You're likely to arrive in one of our rental apartments needing a complement of food/groceries for your stay. The ever present Carulla supermarkets are probably your best bet and there are always at least 1 or 2 within walking distance from each of our buildings. If you're coming from the United States you'll find Carulla to be close to a level of Whole Foods in terms quality, selection and price. Many of the packaged food products at Carulla are imported from the United States an Europe so don't always expect a bargain!

Location: Various, all across El Poblado, Envigado and Laureles.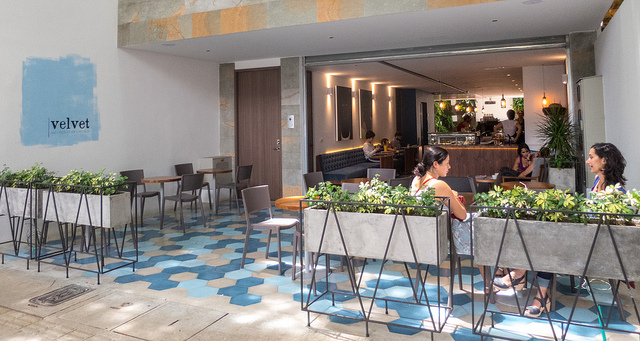 COFFEE/BREAKFAST/LUNCH

Velvet Cafe. Opened in 2014, this Belgian-owned establishment aims to combine European service and styling with Colombian coffee, fresh pastries and chocolate. While drawing mainly a tourist/foreign crowd due to the location, Velvet clearly has a local following as well. You'll find a trendy and stylish open setting with lots of seating to socialize or pass the hours working from your laptop if you choose.

Location: Via Primavera Carrera 37 No. 8A - 46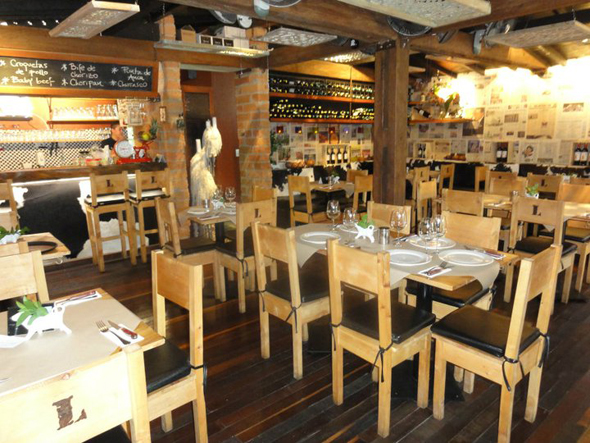 CASUAL FINE DINING

Lucio Envigado. Colombians love to grill (locally known as "Parilla") and some of the finest steaks, fish, chicken and good wine in Medellin can be found at Lucio (Carrera 44A # 30S-40, Jardines, Envigado, Reservations 300 613 0546). Some of the staff speaks English, if that is a plus for you, but regardless you will be having one of the finest meals and service experiences in Medellin.

Location: Carrera 44A # 30S-40, Jardines, Envigado, Reservations 300 613 0546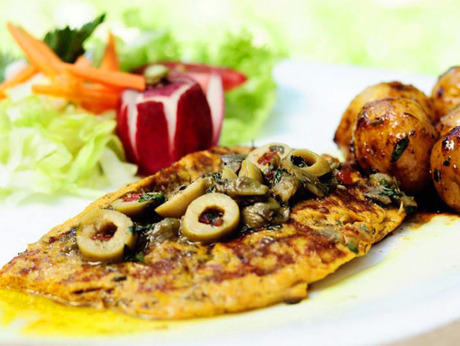 ORGANIC/VEGETARIAN

Vegarden Restaurant. The Medellin "foodscape" happily welcomes vegetarians with many delicious and creative options; Vegarden is just such a place. Meals here are creative and delicious. They also craft beautiful artisanal breads. Try the very satisfying Portobello mushroom sandwich; it's a standout and your non vegetarian friends will also have something to rave about. The atmosphere and service is relaxed and very personal.

Location: Calle 32B # 81-41 Tel. 4 411 1277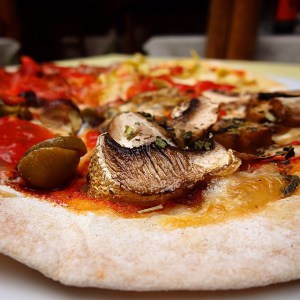 PIZZA

Gaspo de Uva. Finding a good pizza here is no longer difficult, with every passing year Medellin cooks up new and interesting options. "The Bunch of Grapes" is owned by an Italian chef that arrived 25 years ago with a Colombian bride and a desire to serve pizza like they did back home. He also brought the atmosphere with him building all the furniture himself to replicate the old world ambiance as well. Located near Parque Poblado and an easy walk from Parque Lleras and a great way to expand your knowledge of the area.

Location: Calle 9 no 43b – 55 Tel. 034 311 0562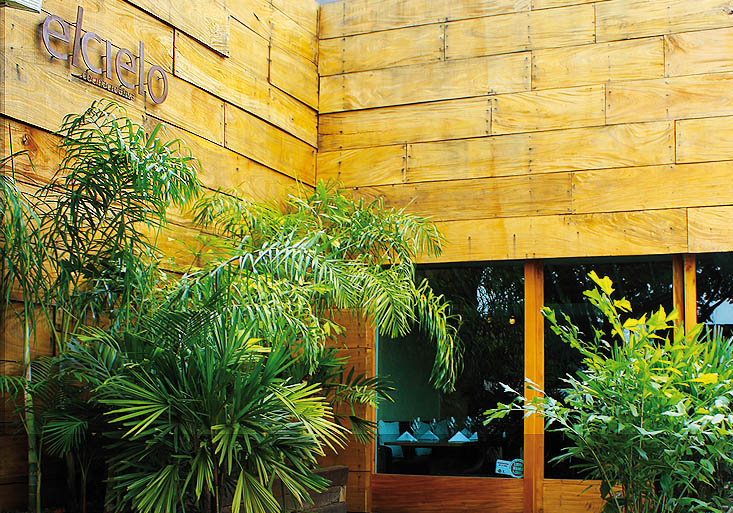 COMIDA DE AUTOR

El Cielo. "Comida de autor" in English loosely translates to creative/arty or very personalized food/menus. El Cielo is considered more of an "experience" than just a fine meal with an excellent multi-course menu, top notch service and is very popular with locals and foreigners for special occasions, dates, etc. Given that he's grown two locations in Bogota and Miami is a good sign that Juan Manuel Barrientos is on the right gastronomic path. Reservations a must.

Location: Carrera 40 # 10A-22, Medellín, El Poblado Tel: 4 268 3002


OUTDOOR FITNESS

Ciclovia. A Sunday tradition in many Colombian cities is the Ciclovia. In Medellin it is one part bike/walk/jog, one part dog show, one part fashion show. The City Hall is continually extending the reach of the Sunday morning event but generally speaking it goes from El Centro all the way to Envigado via Avenida Poblado. Bike rentals, fresh juices, fruit and breakfast food can be found along the way.

Where? From El Centro through to Envigado along Oriente/Avenida Poblado and until Sabaneta along Avenida Las Vegas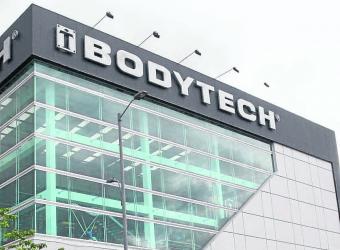 INDOOR FITNESS

Bodytech. The Bodytech fitness chain is by far the largest in Colombia and Americans will find it on par with an "Gold's" type of look/feel/experience. You'll find Bodytech gyms almost everywhere you want to be but especially close to our buildings in Poblado. Bodytech Platino in Rio Sur is especially popular with our guests and there are week/month passes available for shorter term travellers.

Many locations.


PERSONAL TRAINING

ProFit. A small "boutique" fitness concept offers highly personalized/high tech strength training and it's conveniently located within a two minute walk from our BLUX building. Just because you're not at your home gym doesn't mean that you need to miss your regular workout routine. ProFit offers focused training strategies combined with new electric vest technology, that locks in gains and creates a challenging and fun way to stay healthy and look your best.

Location: Calle 11B No.31A-225 Poblado, Medellin (4) 448 0698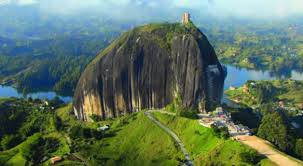 DAY TRIP (OUTSIDE MEDELLIN)

Guatape/El Penol. Once you have seen a few of Medellin's many sights, it might be time to venture outside the city to Guatape. The lake and the view from the top of El Penol are breathtaking and you will not soon forget this beautiful natural experience. A perfect way to spend a whole day, but also consider staying overnight and immerse yourself further in this rich, majestic natural Colombian atmosphere.

Location: 2 hour bus trip from Medellin. Buy tickets in advance.
Or with Casacol's car/driver service if you really want to see it all.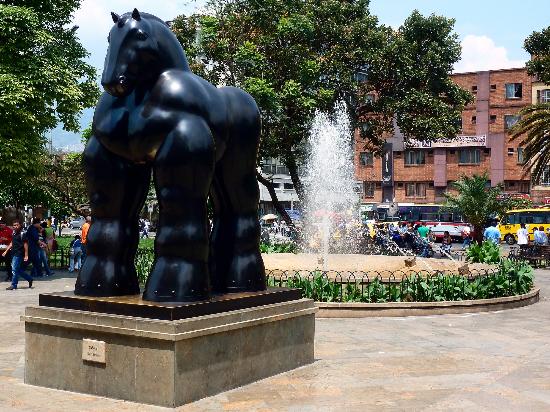 DAYTIME CULTURAL ACTIVITY

Centro walking tour. The walking tours of Medellin are one of the top rated travel experiences available. The guides are more than just tour guides, they are storytellers and they work hard to bring to life the history, troubles and aspirations of this amazing city and country. To fully know the pulse of Medellin connect with one of the serval services available and be ready to be enchanted by the energy that drives this unique place.

Location: Centro http://www.realcitytours.com/ M-F 9:00AM & 2:30PM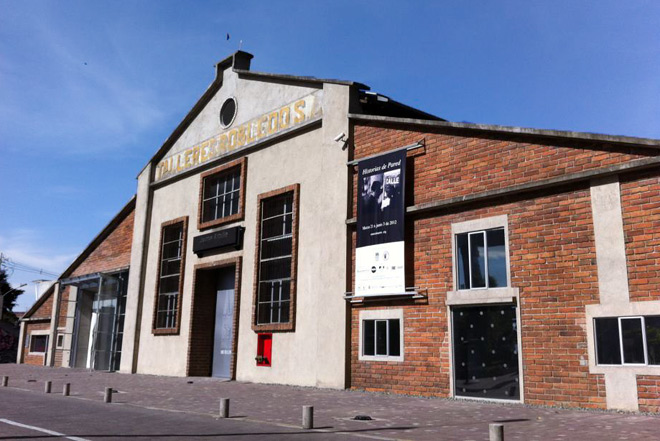 THE ARTS

MAMM. TEl Museo de Arte Moderno de Medellín popularly referred to as "El MAMM" is one of the best places to connect with the current explosive recognition of Colombian and other modern artists. The City of Eternal Spring is a rich environment for creative expression of all sorts and a lazy afternoon visit to "El MAMM" will give you yet another view into what it means to be a Paisa.

Location: Carrera 44 No. 19 A – 100 Tel. 4 444 2622
http://www.elmamm.org/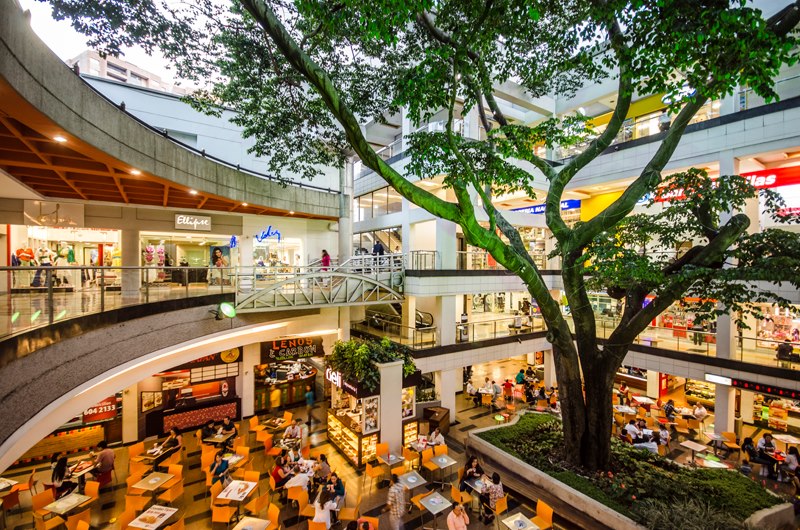 SHOPPING

Centros Comerciales: Santa Fe, Oviedo & El Tesoro. There is no shortage of excellent shopping possibilities in and around Medellin. These very world-class "commercial centers" provide endless possibilities to find exactly what you are looking for—from designer clothing to jewelry to the interesting and unexpected find that makes casual strolling and shopping fun with Latino style.

Location: All are conveniently located in Poblado and within a short taxi ride of each other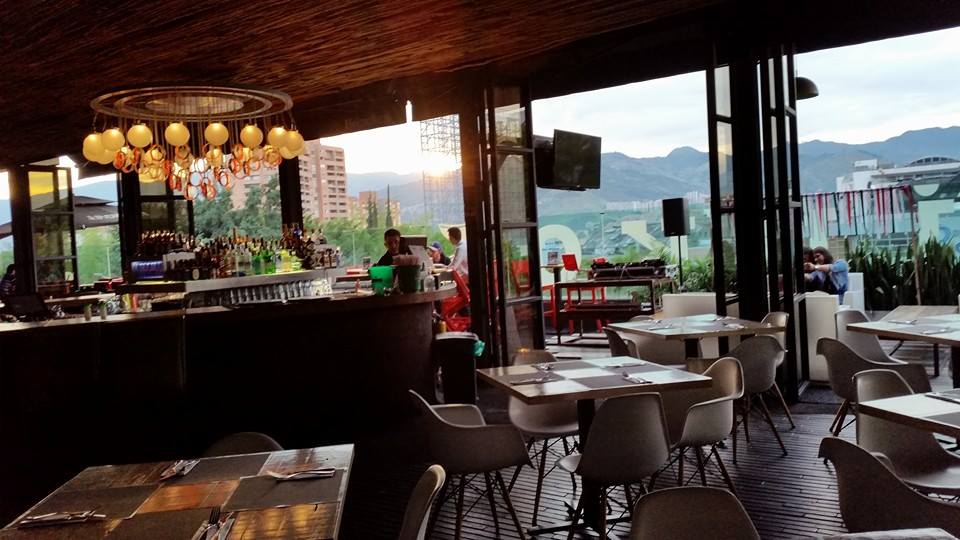 HAPPY HOUR/BAR

SINKO Bar, Rio Sur. Trendy and located in the heart of the Golden Mile, SINKO is one of the places to see and be seen. Expansive and comfortable with a high touch of Medellin atmosphere, find yourself lounging comfortably in open-air couches that face the night and the excitement of watching locals who really know how to have a good time. Thursdays and Fridays heat up after the 4pm stock market close.

Location: In the Rio Sur Complex 3rd Floor #6sur-26 Tel. 4 445 6005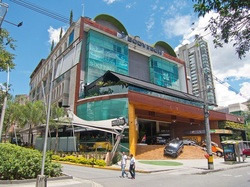 NIGHTCLUB

Rio Sur. Not a club per se, but a collection of higher-end nightlife venues popular with foreigners and well-heeled locals hidden on the 7th floor of a shopping and commercial center. Leave it to the Paisas to create a sort of one-stop-shopping entertainment conglomerate with many interesting choices. Don't like one spot, just move on to the next. As you will immediately see, the citizens of Medellin are irrepressible party people and love to work hard at having fun. It's also a good place to see a high concentration of the famously beautiful Paisa women.

Location: Carrera 43A #6 Sur
Live Like a Local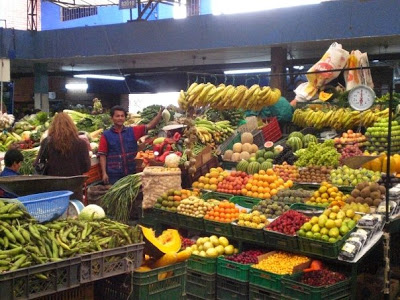 FOOD/GROCERY

Mayorista/Minorista For more adventure than strictly grocery shopping you may want to consider either the "Mayorista" (Itagui) or the "Minorista" (El Centro). This is where many restaurants and grocery stores actually get their supply from and arriving every day is a fresh batch of food from the thousands of local farmers that supply these wholesaling establishments. You'll find lots of specialist suppliers at both locations if you need to procure that special spice, nut, potato or exotic fruit that the average grocer in Medellin won't carry. Taxis can easily locate both as they are major local destinations.

Mayorista: Calle 84A #47-50, Itagüí (4) 320 4248
Minorista: Calle 84A #47-50, Itagüí (4) 320 4248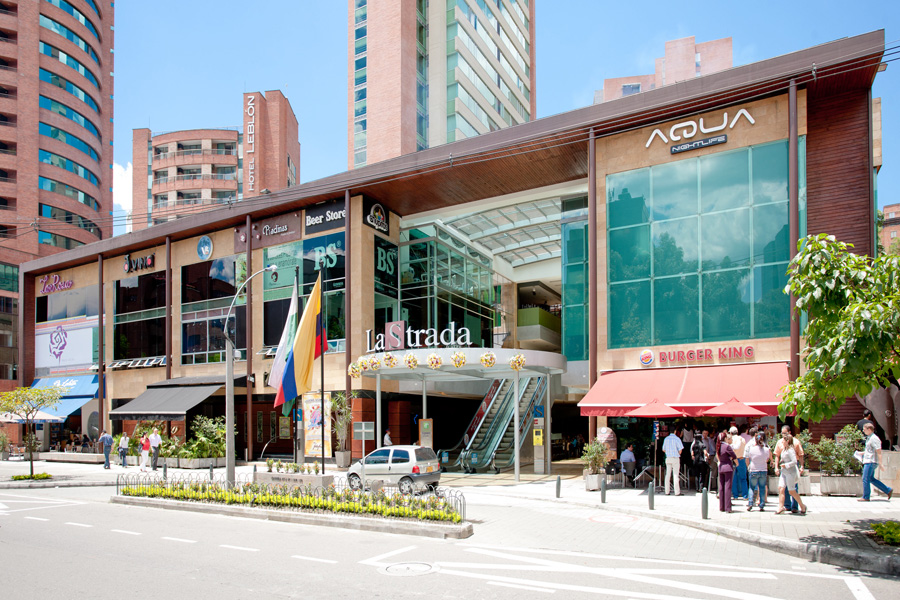 COFFEE/BREAKFAST/LUNCH

Anfitrion by Pergamino. Rounding out the second location of the ever popular Pergamino cafe in Via Primavera is Anfitrion located in the La Strada complex and just steps from Nueva Alejandria. Anfitrion serves up some of the best coffee, pastries, and breakfast/lunch in town. The folks here take their coffee very seriously and so do those who frequent the location. Save yourself the disappointment of a potentially average cup of Juan Valdez across the street and join the locals who know better.

Location: La Strada/Anfitrion Cra 43A (Avenida Poblado) #1B Sur Ground floor.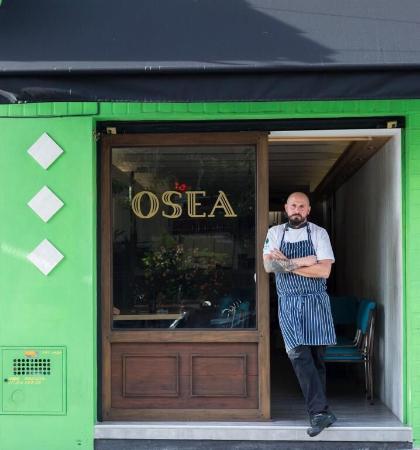 CASUAL FINE DINING

Restaurante Osea. Since 2014, Salomon Borenstein, owner of Restaurante Osea has been breaking the rules of casual fine dining in Medellin. With only 20 seats, in addition to the 4 at the bar, a hand crafted cocktail list, global wines, farm fresh sourced ingredients and a new menu every month, no visit is the same and you'll join Osea's incredibly loyal local following. Reservations a must: 268 3964.

Location: Calle 9 No. 43B - 28, Parque Poblado (4) 268 3964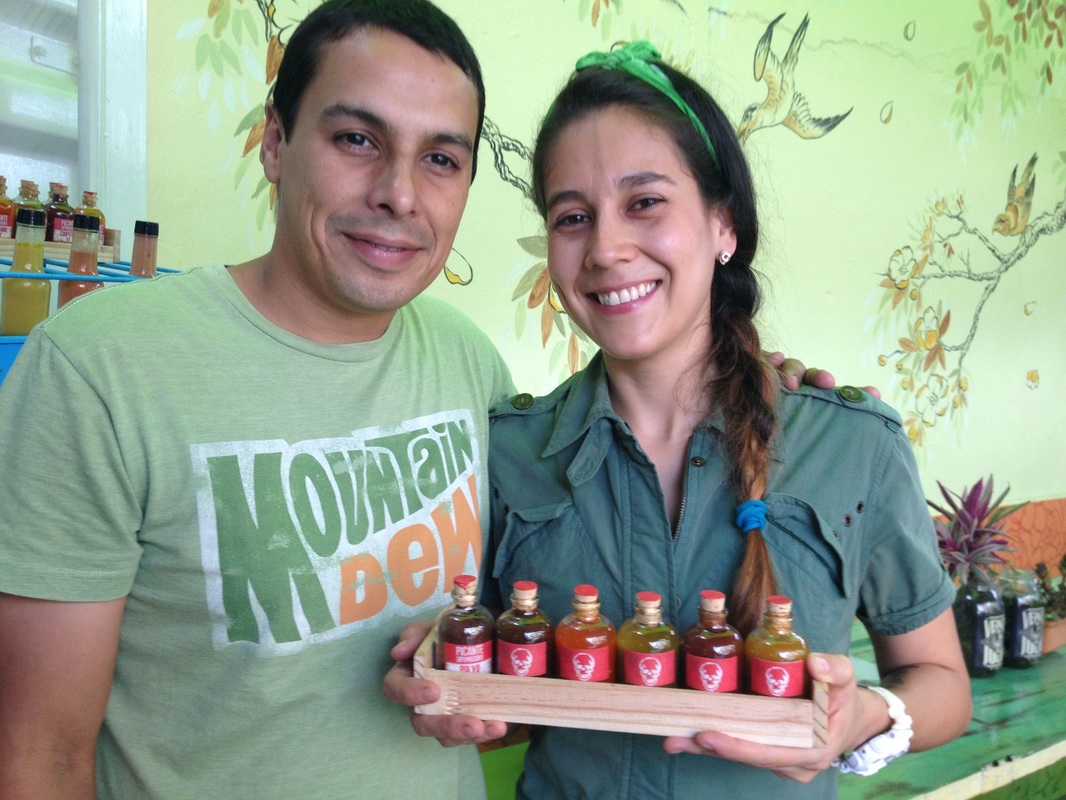 ORGANIC/VEGETARIAN

Centeno. Artistic vegetarian food designed in the hearts of owners Johana and Juan. Charming and hidden in a secluded spot inside a parking lot, don't look for a menu at Centeno, co-owner Johana cooks whatever she feels like eating that particular day. In her words: "it's a free space where you can experiment everyday with delicious flavors that come from the earth." Monday and Tuesday 12-3PM, Wednesday through Saturday 10-10PM, closed Sunday.

Location: Calle 9 #43b-159 Tel: 316 342 4560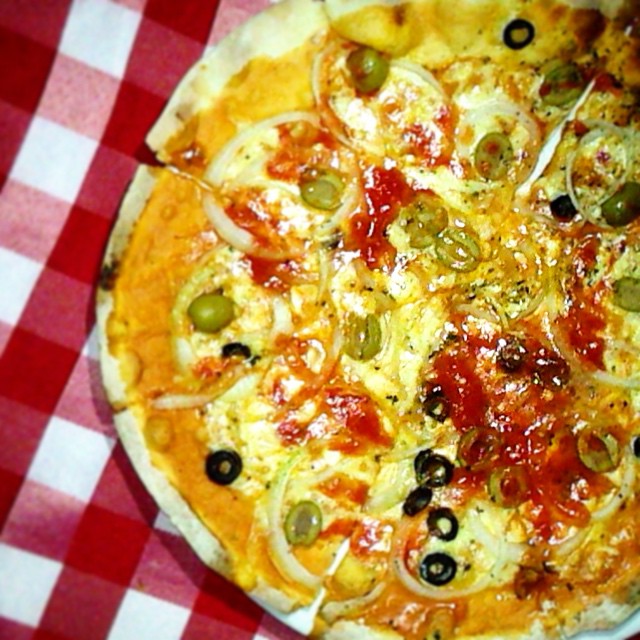 PIZZA

La Pizzeria."Battleground Pizza" is heating up and people are starting to take sides in defense of their own particular pie. An excellent choice: La Pizzeria. Every pizzeria has it's own special approach, La Pizzeria boasts a delicious crust carefully nurtured through the rising process and topped with fresh, high-quality ingredients. In a charming setting, the restaurant is long and thin like a sausage. There is a lot of atmosphere to go along with the very tasty options. Enjoy the adventur

Location: Calle 57 (Argentina) n. 41 – 57 Tel. 4 254 4510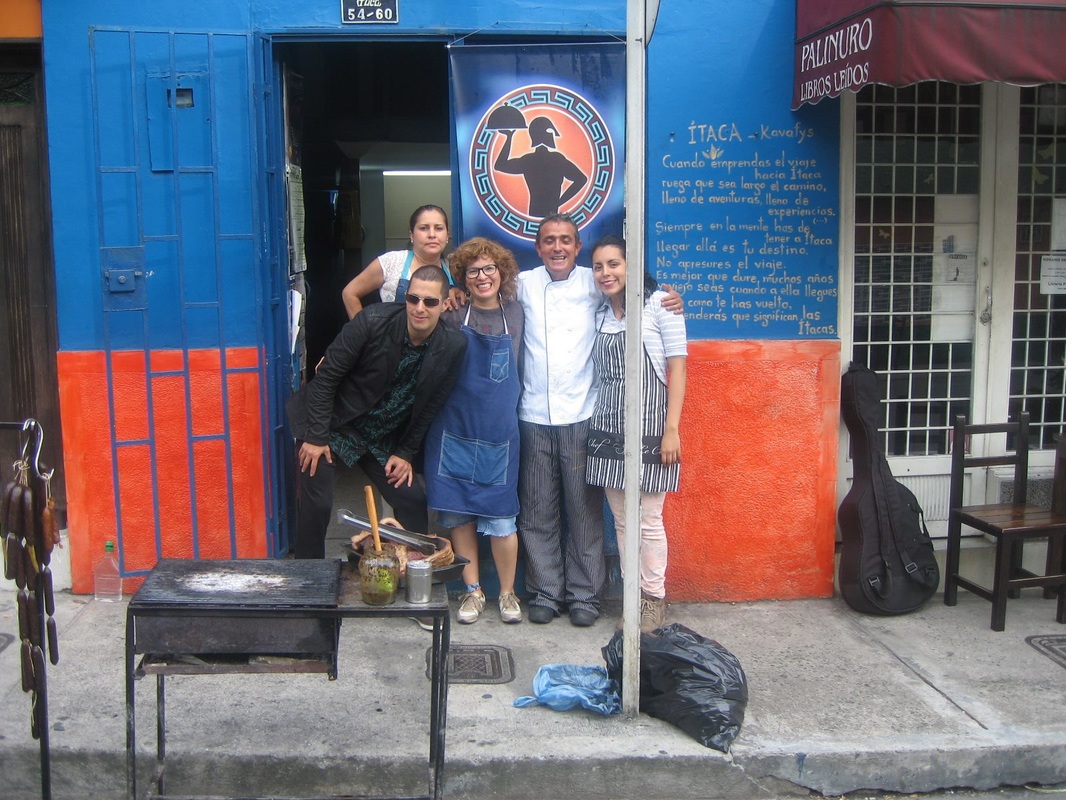 COMIDA DE AUTOR

Itaca, El Centro. This restaurant was introduced to us by the owner/editor of Colombia Reports and at times we're almost afraid to recommend it. Not because it's located so close to the marijuana smokers and sellers of Parque Periodista, but because every time we return it seems like the 10 seats always seem to be full. This husband and wife team from Bogota don't maintain a menu - you come in, sit down, and eat whatever out-of-this-world dishes they've prepared for the day, at a price that you won't believe. Itaca is comida de autor Medellin at its finest.

Location: Carrera 42 #54-60 El Centro, Medellin Tel. 320 790 89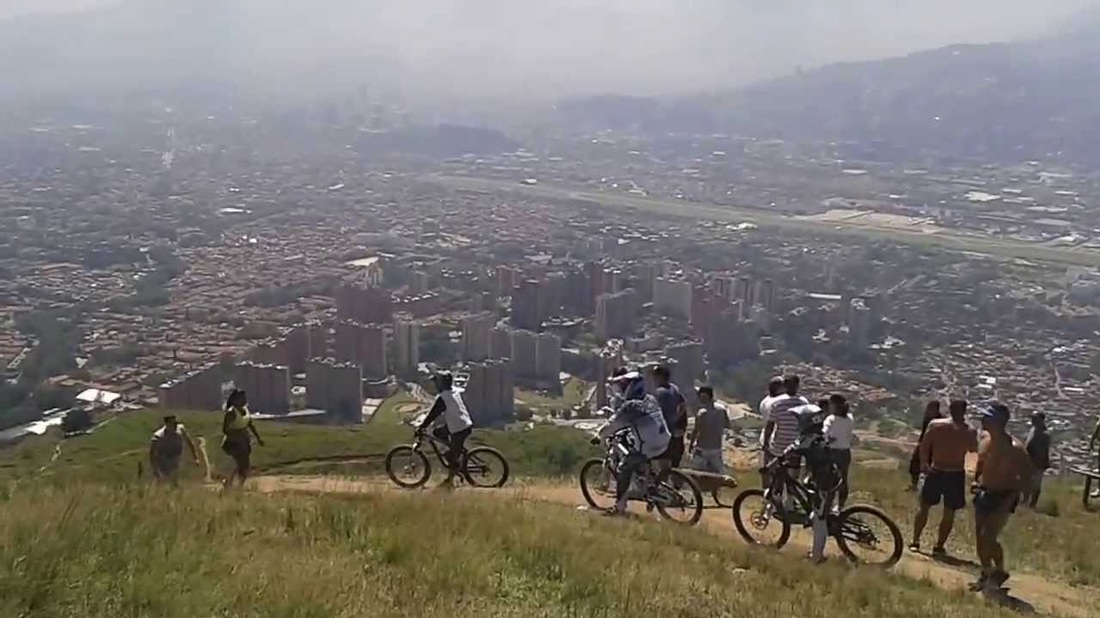 OUTDOOR FITNESS

Cerro de las Tres Cruces. For a more intense Medellin outdoor experience this hike offers a serious 60-90 minute uphill workout finishing with incredible panoramic views of the city. Ask any local who's done it and you'll be met with a face of something between exhaustion and excitement. Not something you'll find in Lonely Planet Medellin but also not something to do if you're out of shape and not acclimatized to the 1500-2000 meter elevation.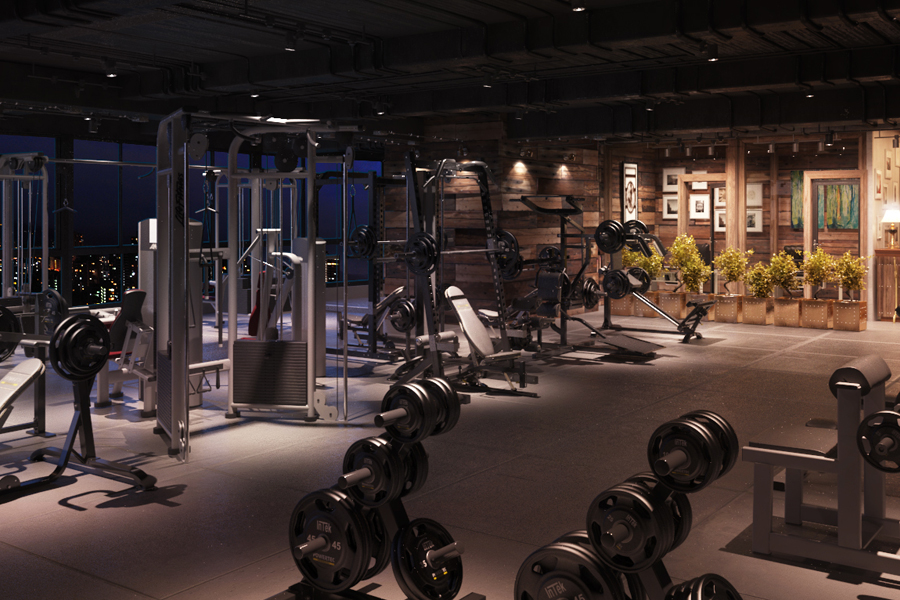 INDOOR FITNESS

Ultra Wellness Center. Or, the "Ultra" gym is located in the Charlee Hotel in Parque Lleras. While once the meeting and workout space for Medellin's top models and trainers, the influx of foreigners into the gym have chased them away to other more private fitness centers. Regardless, the design, setting and class schedule is truly top notch and with very reasonable day/week/month/year passes available, it's a great "boutique" gym to workout in during your sta

Charlee Hotel, Parque Lleras.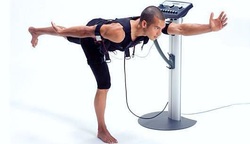 PERSONAL TRAINING

Satori Fit. Medellin plastic surgeon Dr. Erika Molina has not only provided our guests with aesthetic surgery, and Botox treatments among other services, but also offers an innovative pre/post/alternative to surgery fitness program called Satori Fit. While the electrode vest system may seem gimmicky, the steady stream of the who's who in Medellin passing through the Satori Fit clinic with sustained results speaks for itself. It's an intense combination of muscle stimulation, cardio, and aerobic training that will leave even the fittest of the fit sweating within minute

Location: Edifico Forum Medellin (non surgery center)
Calle 7 Sur 42 70 Ed. Forum of 1211, Calle 7 Sur, Medellín (4) 448 4131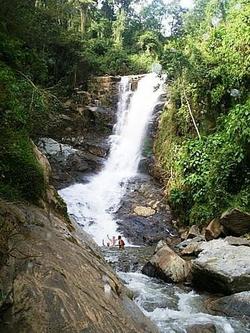 DAY TRIP (OUTSIDE MEDELLIN)

Santa Elena. A day trip to this ecologically beautiful and historically fascinating town is made even better by the fact that you get there by riding Medellin's famous Metrocable to Parque Arvi. The park boasts over 119 species of birds and wonderful ecologic experiences wherever you turn, and there are several famous restaurant options when you get hungry. Take a light jacket, it's a little cooler due to it's higher altitude.

Location: Transport is necessary, taxi or Casacol car/drive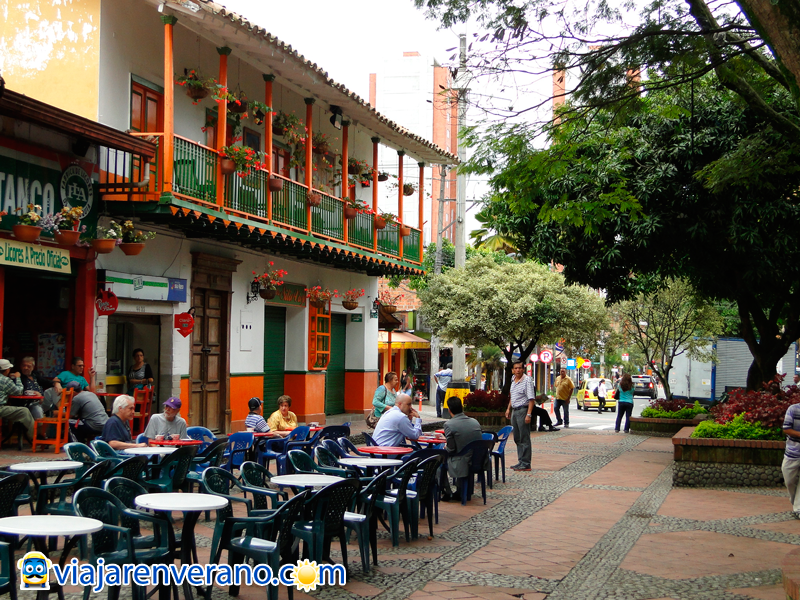 DAYTIME CULTURAL ACTIVITY

Sabaneta. As Colombia's smallest municipality, Sabaneta is a world all unto itself. Experience a less hectic, less urban experience than the hustle of Medellin. Relax in the fresh air of Simon Bolivar Park lined with restaurants and bakeries. Hike up the side of the mountain, visit numerous cultural sites and come for the open-air crafts festival the last weekend of every month. You may decide to stay late for some excellent bar activity as the day winds down.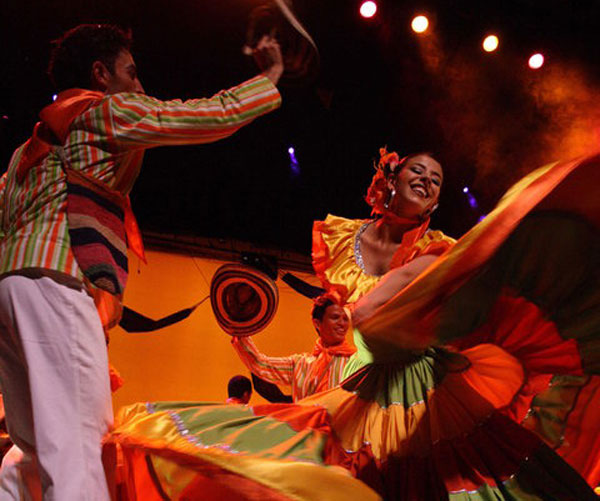 THE ARTS

Teatro Pablo Tabon Uribe. For over 60 years, Teatro Pablo Tabon has been considered to be the center of culture for Medellin. There is always something interesting going on and expect to find music and dance performances of every type as well as dance classes, yoga, organized chess events, book events and cultural eduction classes of different sorts. A truly local cultural experience

Location: Calle 52 Al # 51-24 Tel. 4 239 7500
http://www.elmamm.org/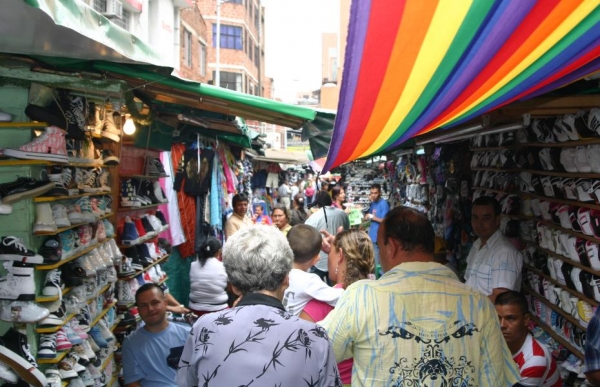 SHOPPING

El Hueco. As the throbbing heart of local shopping culture be prepared to be amazed at the sheer amount of products and retail venues. El Hueco is an area comprised of many blocks of stores, significant architecture and is a true view into the local zeitgeist. The operative strategy in El Hueco is: bargain. Find a bargain and better yet make your own deal. Cash is king here and the vendors are ready to listen.

Location: El Centro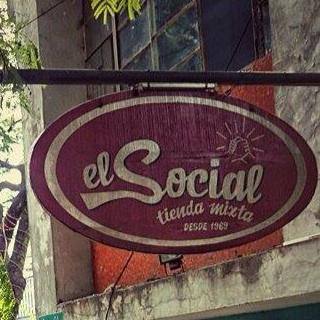 HAPPY HOUR/BAR

El Social. Bienvenido to a true local relaxation zone—Medellin style. The consensus seems to be: come here and feel like you're at home. Sit around as long as you like, enjoy inexpensive drinks, simple and delicious bar food and connect to the world with free WiFi. Simply a wonderful place to hang with locals and get a feel for the relaxed pace of this beautiful city. Expect to be entertained by excellent music selections and who knows what else?

Location: Carrera 35 8a-8 Tel. 4 311 5567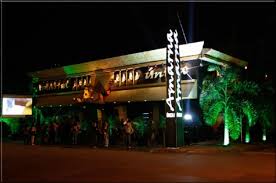 NIGHTCLUB

Barrio Colombia. A small industrial zone not too far from the Parque Lleras epicenter, Barrio Colombia might just be the Reggaeton capital of the world! There is a collection of discos and bars that spill into the streets especially on weekend nights. Expect to find a younger, very local, high energy crowd moving from club to club until the very early hours of the morning...controlled craziness? You decide once you jump on the fabulous (and loud) ride!

Location: El Centro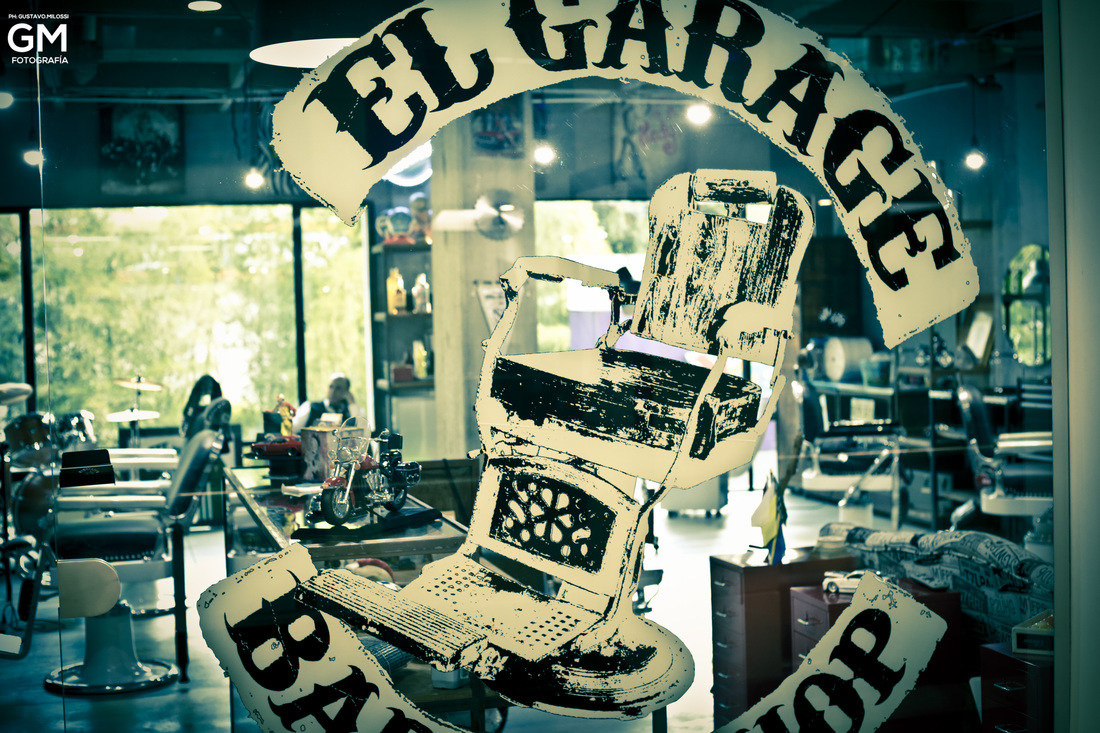 HAIR/BEAUTY

El Garage Barber Shop. Owner Hernan Cruz is grooming a new generation of gentlemen. Experience up-to-the-minute hipster styling in a male+ welcoming atmosphere that goes well beyond basic barber services. Just come to hang out for a while, make El Garage your home away from home, chat, have a whiskey and experience the relaxing delight of a highly detailed 45 minute shave and facial cleansing, or an artfully conceived hairstyling designed by Hernan just for you.

Location: Riosur 3rd Floor. Carrera 43A #6 Sur-26 Local 326 Tel. 304 465 0563